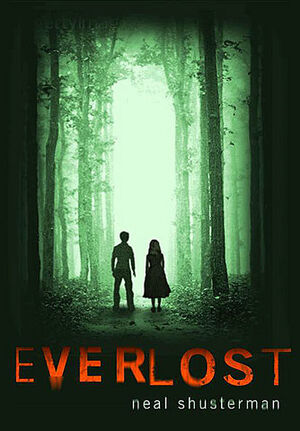 Welcome to the Everlost Wiki!
Edit
This wiki is all about the books in The Skinjacker Trilogy by Neal Shusterman: Everlost, Everwild, and Everfound. As you can see, there is a great deal of work to be done. Just as Mary Hightower found herself scribes to copy her writings, we too must catalog and transcribe the information about the Everlost universe. I encourage you to take up the torch and make an edit. The pages aren't going to write themselves!
Discord Community
Edit
Have you ever wanted to speak to another fan of Everlost? Now you can! All it requires is a Discord account and you'll be able to join a community of avid fans by clicking this link:
We are small now, but perhaps there will come a day when we'll be a proper cumulus!
Spoilers!
Edit
This wiki is NOT a spoiler free zone. You should expect every page to have some sort of spoiler. If you haven't finished the trilogy, you may be spoiled from reading the pages, depending on how far along you are and what content you choose to read.
For Editors
Edit
Make sure to check out the Using Everlost Terminology page. Not only is it an important reference for proper usage of Everlost terminology based off of how it appears in the book, but like everything else on this wiki, it is a work in progress. If you notice there are any missing terms, please add them!
Also, THANK YOU, for helping to build this place up!
Latest activity
Edit